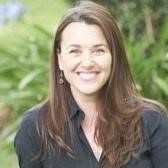 Kelly Ruse was born in New Hampshire and lived in Florida before relocating to Southern California after college. She started her career in education at California Learning Center, an after-school tutoring center, in Santa Barbara in 1997 and later purchased the business in the year 2000. She quickly expanded operations including a larger location which enabled the business to increase its enrollment from 50 to 150 students. In 2006, she was the co-founder and Director of Makai Day School, a small private school for children with learning difficulties where she helped develop curriculum and manage the day to day operations of the school.
Kelly served on the Board of the Directors for the Recording for the Blind & Dyslexic for 3 years and was an active volunteer for several youth programs at the Santa Barbara YMCA. She sold her business in 2012 and became an educational consultant for the Santa Barbara School District. After Kelly and her husband learned that they were expecting fraternal twins in 2016, they made the decision to relocate to Southern Oregon where Kelly currently works from home as an online business manager.
Kelly enjoys spending time at the lake, camping, hiking and traveling with her family.  Kelly's twin boys attend first grade and her Godson attends 7th grade at Madrone Trail. She is grateful to be on the Madrone Trail school board and looks forward to contributing her expertise in the fields of education and business management.