MEET THE TEACHERS
Caterina Cegin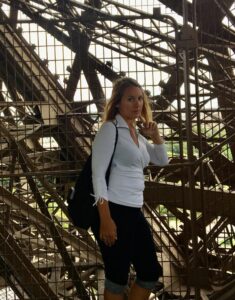 Caterina Cegin was born in Cicero, IL, a diverse city, rich with European immigrants.  Her parents immigrated from Slovakia. This rich culture exposure paired with seasonal celebrations and camping trips inspired Caterina's love of travel and cultural studies, as she connected to her heritage and began to understand her place as a global citizen.
She attended The Evergreen State College in Olympia, WA and received a Bachelor of Fine Arts with a focus on Ethnobotany and Liberal Arts.  After completing this course, Caterina studied Five Element Herbalism with a local practitioner.  Her love of people and culture inspired Caterina to become a teacher.  Caterina became a Waldorf teacher due to the curriculum's focus on art and movement, as well as the focus on healthy social growth and social responsibility.  She feels these methods allow a child to learn with their whole being, awakening the talents and capacities inside each child.  She attended Sound Circle Center and Rudolf Steiner College to complete her Waldorf Early Childhood Teacher Training.   Caterina has worked in Waldorf schools since 2006.
She has seen that through curiosity and interest, children are able to find common ground to work and play together despite language or cultural differences.  This capacity has influenced her work with others, that with curiosity and interest, we can respectfully find compassionate ways to work and live together. Her daughter attended Waldorf schools from kindergarten to eighth grade, studying at Madrone Trail from fourth to eighth grade. It has been insightful to see how this education equips students with the tools they need to be successful academically, compassionate and kind to all whom they encounter, with a deep sense of knowing themselves and their peers, as well as their place as global citizens.
Experience has shown how this education works from the inside out, helping children to know themselves and to be active, compassionate member of their class and community. We are fortunate to begin this journey together to foster each child's growth and love of learning. As William Butler Yates says, "Education is not the filling of a pail, but the igniting of a fire."
Mary Lee Gorman