Handwork
As human beings, we use our hands regularly in our daily lives. Handwork as an integrated part of an educational program, however, is taught almost exclusively in Waldorf schools. Here the Handwork curriculum is broad and includes, but is not limited to, skills such as knitting, crocheting, hand sewing, embroidery, felting, pattern design, and machine sewing. Many of the benefits of the Handwork program are obvious: hand-eye coordination; basic math skills such as counting, the four math processes, and basic geometry; the ability to understand and follow a process from concept to completion; and the ability to focus on a project for an extended period of time. There are also more subtle rewards that complement these obvious benefits. Students must prepare and care for materials. Many of the created items have a practical use—a case for a flute, a pencil holder, a hat, or a pair of socks. Throughout the process, respect is fostered. Creativity is encouraged through design and color choice. Handwork in each grade also embraces where the child is developmentally and has its basis in the Waldorf pedagogy. The handwork curriculum often mirrors what the students are exploring in main lesson.
First Graders learn to knit on needles they have made. Their first project is a square which becomes a butterfly. They then make a flute case. Knitting uses both right and left hands, and brings a steady, calming rhythm to the younger child.
In Second Grade the students continue their work in knitting. They learn to purl, cast on and cast off. They create knitted animals and a gnome.
In Third Grade the students learn to crochet, which emphasizes the right or left hand. They start with making a square for a group project or to use as a wash cloth. They then learn to crochet in the round, making a pencil case. The second half of the year, we introduce the children to the making of cloth, from sheering a sheep, to carding, dyeing and spinning wool. This unit culminates in weaving a piece of cloth on a cardboard loom.
Fourth Graders start the year designing a handwork bag. They learn several stitches in the process of making the bag, including chain stitch, backstitch, hemstitch and blanket stitch. They create a bag that they will use through eighth grade to hold their handwork projects. Then they learn cross stitch and create a pin cushion.
Fifth Graders return to knitting and learn how to knit in the round, to make a hat or socks.
In sixth grade the students sew three dimensional soft fabric animals. This requires planning, patterns, cutting and other skills. They are deepening the sewing skills they learned in 4th grade.
The seventh grade curriculum for handwork is another example of beginning with an understanding of where the students are developmentally, and designing a project to meet them there. In this way the students balance out and work through some of the difficult aspects of the age. In seventh grade, the child is on the verge of adolescence: bodily, hormonal and emotional changes are just beginning. There is commonly a corresponding inner experience of uncertainty. At this moment, when final, somewhat longing, glances are being cast over their childhood, students, as indicated by Steiner, should make dolls in their own, childlike image. The seventh graders continue developing their hand sewing skills and journey through all the stages of making a doll.
In Eighth Grade the Industrial Revolution is studied, and this is when machine sewing is introduced. Coverings for the feet, hands and head have been previously made, and now is a good time to make garments to clothe the body. A discussion of the structure of the woven fabric is followed by body measurements and the puzzle of how to turn a flat piece of fabric into a 3-dimensional garment. The first project is a basic pillow case. Then they move into making pajamas, and learn how to follow a commercial sewing pattern, cut and mark fabric, and sew a garment. Often the students complete a third project of a simple quilted pillow cover.
MEET THE TEACHER
Nancy Escherich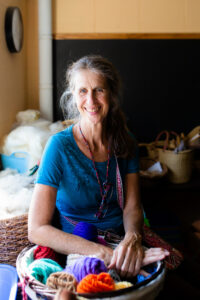 Nancy was born and raised in Pasadena CA. She loved working with her hands from a young age, starting with crochet, macramé, and sewing and moved on to weaving and knitting. Her parents enjoyed traveling and took her family on many adventures in the states and to Mexico. Nancy discovered the colorful markets in Mexico, mesmerized by the piles of textiles, full of intricate patterns and vibrant colors.
Nancy moved to Montana after spending a summer working in Yellowstone National Park. She attended the University of Montana and graduated with a degree in Visual Art with an emphasis in Fibers. She spent several summers during college working at Idyllwild Arts Summer Program, assisting Native American artists Blue Corn, Lucy Lewis, Rainbow Stevens and Juan Quezada. After graduating college, she joined the Peace Corps and spent 4 years working with a women's weaving cooperative in Walkerswood, Jamaica. Nancy traveled to Peru, Ecuador, and Guatemala to travel and study with weavers. Nancy returned to Montana and ran a weaving program for adults with physical challenges. Nancy studied tapestry weaving with Rebecca Bluestone in Taos, New Mexico and purchased her first floor loom in Taos. Nancy taught weaving classes at the local yarn store in Missoula and later in her studio. She also started creating and selling her own weavings at craft fairs.
Nancy returned to the University of Montana and received her teaching certificate in Art and Spanish. She spent 5 years teaching Spanish and Fibers at Idyllwild Arts Academy and 4 years at Sentinel High School in Missoula. Nancy led student trips to Mexico, Ecuador, and Peru. Nancy took leave from work for 6 years while raising her son, Logan, and discovered Waldorf Education. She was part of a group of parents to initiate a Waldorf School in Missoula which now has a preschool.
Nancy continues to explore work with fibers. She is passionate about the need to teach children to use their hands to create works of beauty. She completed the Waldorf Handwork Teacher Training Program at Rudolf Steiner College. She loves to spend time with her family and friends, going on fun adventures to the coast, to the mountains, and to Latin America. She always carries a ball of wool in her handbag to create a new piece of beauty.